,,I had the pleasure of being introduced to the world of tantra massage by Maria and I would unconditionally recommend her to anyone who is considering this experience for the first time. Right from our initial contact, Maria immediately put me at ease and helped me to set intentions and prepare for the session. During the session itself, I experienced a connection unlike which I have ever experienced upon meeting someone for the first time. As I looked into her eyes, I felt like I could see into her soul and was greeted with an extraordinary openness, understanding, non-judgement, and love. It was almost as if I had known her for my whole life. I decided to try this experience in order to assist my recovery from a painful life event, and I left the session with feelings of strength, empowerment, and love for myself and mankind, which I hope to be able to maintain in my life going forward." - Chris R.
"Professional, beautiful, strong and patient." Mishel
Dear Maria ,  thank you for the soothing and relaxing massage. With your empathy and friendly charisma, I immediately felt welcome. Above all, I noticed that the relaxation effect quickly sets in as a result of your intensive body contact-related massage, but it also continues to be soothing after the massage. It's like a getaway without the need to travel far and the weather is always sunny! A beautiful massage from a very sensitive woman. Stanley
"Love Maria!
It was just a dream to be with you! Many thanks for that! "


"Dear Maria, it was wonderful again to feel this warmth with you and to experience closeness. Thank you for allowing me so fast and spontaneously this time out. What you do makes me feel beautiful. I'm high after a few minutes and still fly. The game with tension - and letting go, I love it. It would be wonderful to give me to your touch every day and live my life as it is meant: sexually. - Thank you, I'm replenished for weeks now! "
Marko

"Your late night massage visit was great luck for me!"
Jean

"Thank you for this love."

"Phenomenal, what deep and unconscious tensions you have found and solved with me! This massage experience is really worth every single penny! "
Tom

 
"Virtually shamanic"
Rainer


"I've never experienced such a thing before, it was a new and extraordinary experience, I feel honored and energized!"
Antoine

"Again I want to thank you for the session. In the course of the last day, I had time to reflect and I am truly surprised at how much I am learning. For a person like me, for whom it is usually hard to receive, let go of control, and leave another person in my personal space, a real "revelation." I would like to deepen the experience in another session. " Torsten

"Hello, thank you
I am always amazed about the effects of this  energy transfer.
Thanks to your active help, my back pain, which I had been carrying around with me for weeks, has practically gone away. " Werner
"Dear Maria, back home, I would like to thank you very much for the wonderful time with you on June 6. I did not know what happened to me, in the beginning it was like a normal massage, then elements from Cranio Sacrale, somehow you straightened my round back, then treatement of foot reflex zones until you finally spoiled me.. Namasté Jochen "

"This massage was just gigantic! I rarely got such a beautiful one!" Aron

"Many thanks to you Jan for the massage on Monday, I still think about it and will never forget it." Jan
The intensity of your emotional focus is staggering. it makes me feel unguarded. In your regard without judgment I find myself flirting with you aggressively, appreciating your bohemian romantic style. It seems you follow a philosophy that connection is possible with evry being. You find your way to that point of contact and touch there. Unique and very special.   S.
"Amazing, I never experienced this before." George

 

"Thank you Maria, it was wonderful, you gave me a lot and I could let go and relax so wonderfully." Robert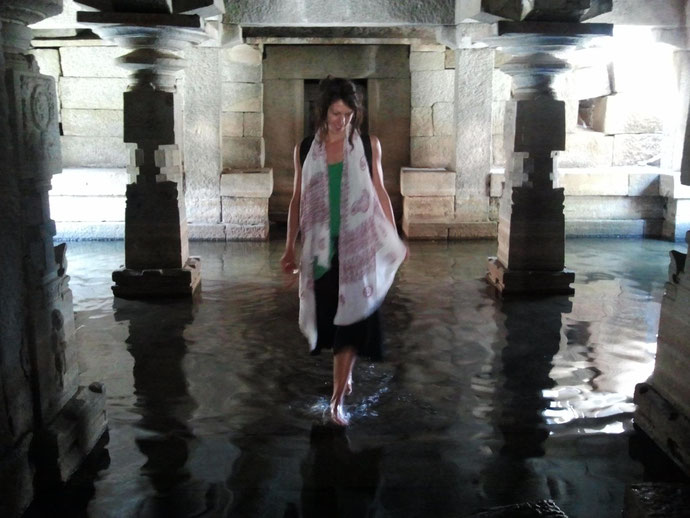 I was very positively surprised. You just notice the difference: that was not a 0815 massage that is learned somewhere and then repeated stupidly ... You just have the skill and that certain something that provides for special excitement!
Many Thanks Sven
For 5 years now I suffer from erectile dysfunction, the doctor advised me to Tantra. As you hear everywhere, Berlin is the center for Tantra and Spirituality, that's why I came here the long way. I know about relaxation and breathing exercises, grew up in a yoga center, but that did not help me. The tantric massage with you was very different than expected. I thought there are instructions, as in yoga, and I would learn techniques. Instead, it was like a simple meditation that suddenly became erotic. But hey, I had an erection, from the very first moment, right through to the end! Maybe it was the charm of the unknown. I wish I could experience this with my trusted partner. Chris
"Thank you again for this special experience.
I often enjoy tantric massages in Paris, but that just was probably the best massage I've ever experienced. I like real tantra, I like to consciously breathe and I want to  feel that there is a special connection. Unbelievable how you feel what I feel, even where I have pain, and go there. I feel really light after this massage, I love this feeling. "Bastien
Tantric Couples Massage
Dear Maria,
We would like to thank you very much for yesterday's encounter.
This was very inspiring for us, beneficial and stimulating, and continues to be very warm today.
We wish you all the best,
Stefanie & Jens
12.3.2018 Berlin.
 Expected her in front of the hotel.
The Lady was on time.
Together in the elevator to the top.
I was nervous, excited.
Said her that I do not like a session, 
Because of a stress day yesterday and a long drive.
I just want a massage and enjoy.
She nodded.
Undress yourself!
I did that.
Tying this over.
Was a cloth.
Too nervous, I did not make it.
The lady helped me.
Then followed a terrific massage.
with dominant sadistic elements.
From now on the gentleman is silent.
Reminisce.
But.
This woman is brilliant!
Lady Maria is very sensitive.
She immediately recognizes what is good for you and what is not .
And immediately she changes her course of action.
Nevertheless, she puts what she wants.
I was so hot, just want to come.
But the Lady did not want that.
I'll tell you one more thing.
A teasing and breaking game followed.
Skillful, empathetic and just awesome.
And the agreed hour became 90 minutes.
Unfortunately, I will probably be back in Berlin only in 4 years.
But probably because of her i will come back earlier.
Uppsss ... Excuse me, Lady Maria.
Of course only if you like.
And then I will expect her again in front of the hotel.            
Peter
Dear Maria, I would like to thank you again for the first massage. I needed some time to process the impressions and new experiences. Although this was my first massage with you, I immediately felt welcome and could even surrender to you. Since I like sensual erotic massage very much, I have to admit that I had some reservations about opening for the "Dark Side Tantra". My attitude was that domination and sensuality would be too much in conflict and difficult to reconcile. That's why I carefully chose "gentle dominance" for the "first time". My concerns were not confirmed. With the last massage you managed to get me excited about the "Dark Side Tantra". It was exactly the combination of dominance, sexy erotic and above all sensuality, which I especially liked. You have integrated a nice interplay between tension and relaxation into the massage. The pleasure in pain is certainly one aspect, but rather the suspense and dedication that creates suspense. Your empathy has quickly set me a sense of vertigo and I look forward to the next reunion. Joseph                                                                                                                                                                                                                                                                                          
 Dear Maria,
I would like to give you some feedback on the last Dark Side Tantra Massage, because it was extraordinary and a special highlight.
With the last massage you have fulfilled a long-awaited dream. For the first time in my life, I experienced a kind of full body orgasm without ejaculation. It started with tingling in the fingertips and feet and slowly spread to the abdominal region, chest and head. It took a relatively long time and was very intense because every muscle group contracted at will. I could not control or influence it and when the full body orgasm had subsided, I had to collect myself first. What I particularly liked was your attention in that moment that you did not touch me and let me "fight" the experience alone. At least I could not feel any direct contact at that moment. It was almost like floating, a sort of out-of-body experience.
Conscious breathing probably also made a decisive contribution to the overall experience.
As you watched my breathing and tirelessly asked me to breathe, it was remarkable, as I tend to tense sometimes and then have an irregular breathing.
Please see my impressions as a thank you, because with the last massage you have given me a very big gift in the form of a completely new body perception. I have always believed in the spiritual nature of Tantra massages and still can not believe that I had such a profound experience. My anticipation for the next session is accordingly huge.
Best regards
Jan
Mistress
This experience was exactly what I was looking for so long. I am so glad that I have landed with you, as you master the art of guidance. You observe, listen and feel as a true master. As a woman full of positive energy, emotional intelligence,  professionalism and love, doing the right thing from moment to moment, in brilliant improvisation. Your power is to strengthen my staff with your pure will, your pure spiritual power. You filled me up, and you healed my lingam. Just because, and only if you want it will be hard. For years I have been waiting for such an erection. With subtle intuition and your breath you feel everything of mine, only through your breath, and with tiny yet powerful details you play the game of mental dominance, to which I surrender ...
 Daniel H.
It is my service to open a space of loving and compassionate energy.
Whether you long for simple stress and tension release
or seek for spiritual intimacy, in tenderness or exstasy,
I honor your desire and offer my tantric massage session with passion, knowledge and love.

Being a highly sensitive high sensation seeker I've had early initiations, later trained  at the Spiritual Centers of Berlin and India I am well versed in providing  Tantric Massage and Rebalancing Bodywork, Tantra Yoga and Meditations, further lessons  inspired by Martial Arts, Contact Dance and Authentic Connection.
Qualifications:
• certified Tantra Massage Therapist
• certified Rebalancing Massage Therapist
• certified Personal Trainer Medical Fitness

• certified Yoga Teacher

• certified Reiki Master

• certified Domination Skills

• Qualified in  NLP, Meditation, Relaxation, Dance and Movement Therapies, Empathic Communication, 
• certified Social Worker
Training Centers and Teachers
Tantramssage, Yonimassage, Lingammassage, Prostatamassage at Spiritual Tantra Center, Tantra Yoga Teacher Training Sri Kali Ashram India, Rebalancing Deep Tissue Massage Ingo Lassak, Dynamic Meditation and Awareness Understanding Meditation, Osho Mauz, ZEGG, Studio Lux, Schwelle7, Diamond Lotus Institut, Unique Tantra,  Laura Méritt, Christopher Gottwald, Manu Magic